Are you or your family members suffering from acute or chronic liver diseases? Has the doctor recommended a liver transplant as the most suitable way out?
If yes, then approach Dr. Gaurav Gupta, Consultant, and Head of Liver Transplant and HPB Surgery Department at Fortis, Mulund, Mumbai. He is well known to provide the best Liver Transplant in Mumbai and India. His other areas of surgical expertise include Living donor Liver Transplant, Laparoscopic Donor Nephrectomy, Pediatric Liver Transplant, and Pancreas Transplant.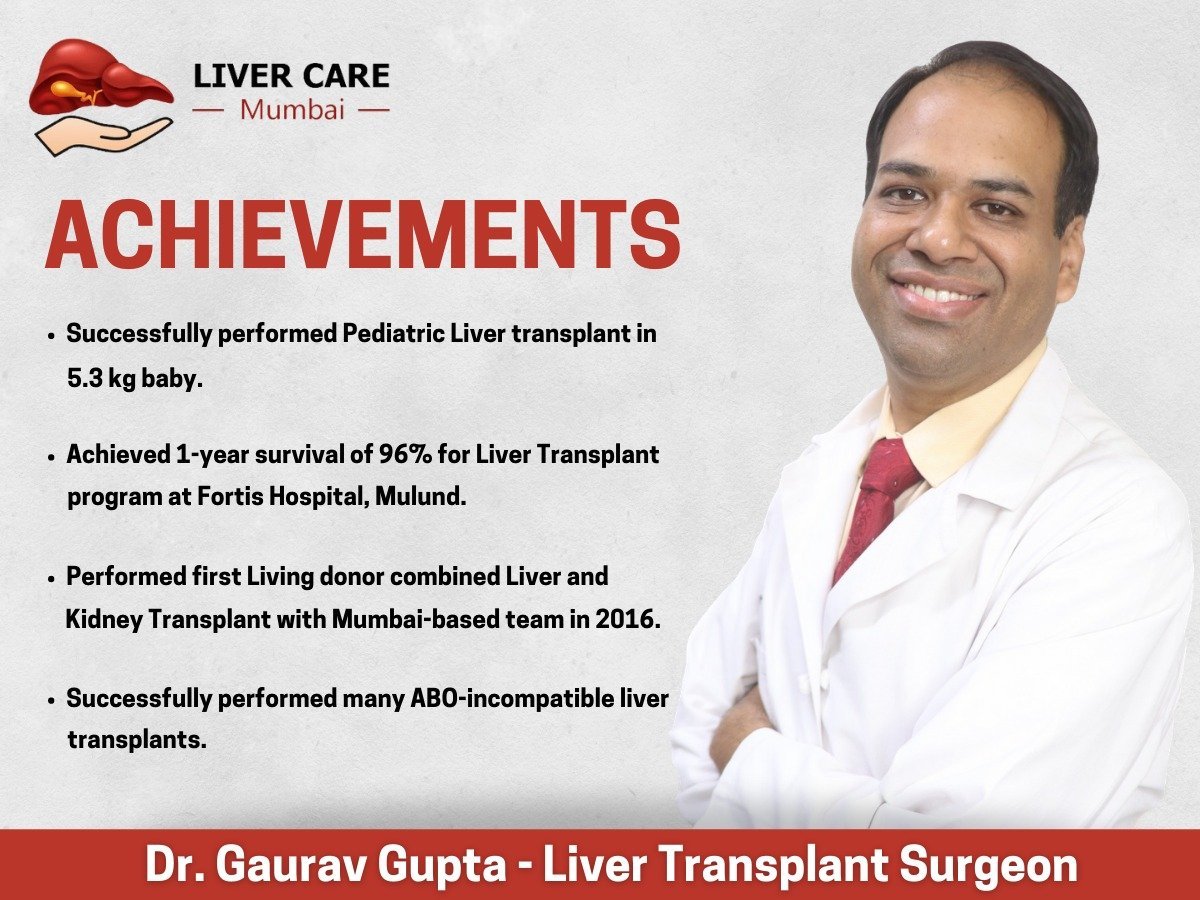 Transplant surgeons have successfully performed liver transplants on children as well as adults. Doctors recommend liver transplants when the liver cannot function properly and the body cannot regenerate the liver. Incidentally, the liver is the only organ in the human body that can regenerate.
The patient will require a liver transplant if there is total liver failure due to a liver tumor or long-standing liver diseases such as hepatitis, nonalcoholic fatty liver disease, Cirrhosis, primary sclerosing cholangitis, or the presence of tumors such as hepatoblastoma in children and hepatocellular carcinoma in adults.
Fortis Hospital, Mulund, Mumbai is one of the best hospitals that offer state-of-the-art services for Liver transplant in India. It is synonymous in its liver transplant services that are on par with the international standards with a 96% survival in their liver transplant patients. The Department of Liver Transplant and Hepato Pancreato Biliary Surgery, Fortis Hospitals Mumbai is well equipped with state-of-the-art diagnostic facilities and machinery such as 3 TMRI, 128 slice CT, ARFI, Fibroscan for diagnosing all types of liver issues and Liver Cancer.
Types of Liver Transplant

1. Deceased organ donation or cadaver liver transplant

The surgeon will transplant the liver from the brain dead donor and replace it in the patient after removing the damaged liver. The donor or their family members must give consent to remove and transplant the liver.

2. Living donor organ transplant

A section of the liver from a healthy individual is transplanted into the liver patient. It takes nearly six to eight weeks for the liver to regrow and function properly in both the donor and the receiver.

3. Split organ donation

Usually, the liver from a recently dead person is removed and split into two parts, one smaller and one larger. These parts are transplanted into two different patients, which then regrow to normal size in few weeks.
Waiting for a liver transplant
It is normal for patients to wait for a considerable time till a matching liver donor is available. This is the main reason for spreading the awareness of Organ Donation. We can reduce the waiting for patients who are in urgent need of a transplant.
During the waiting period, the patients have to stay motivated and active. A positive frame of mind ensures quick and better recovery.
Some helpful tips for patients waiting for liver transplant are:
Continue taking prescribed medications.
Stay involved in healthy activities and spend time with family and friends.
Stay in touch with your medical team and caregivers.
Follow diet suggestions and restrictions fully.
Inform the medical team of certain health complications as and when they arise.
Life after liver transplant
The patient will have to stay in the hospital for at least two weeks for recuperating and observation. If no complications arise, then the patient will be discharged.
Initially, the patient will have to undergo frequent medical checkups and blood tests. It may take nearly six months for the patient to regain normal health. During this period, doctors prescribe immunosuppressants to prevent complications from arising. Also, the patient will have to take medicines for their entire life.
Success rate of a liver transplant surgery
The success rate of liver transplant surgery is nearly 90% and above. People can survive for a considerable long time post-surgery. They can lead normal and active lives too provided they follow the doctor's guidelines, continue the regular medication and go for regular checkups. These patients go back to their work and remain productive members of society.
Surgical Complications
It is possible to encounter complications during a liver transplant procedure. Most Liver transplant surgeries are successful, complication rates can be anywhere 5-10%. The most common problems are infection.
The surgical complication rate is 3-5%. In approximately 1% of new liver transplants, there are chances of non-functioning or poor functioning of the new liver and hence the patient may require a second transplant. The other dreaded complications are
Hepatic artery thrombosis
Bleeding
Why choose us?
Extremely competent and proficient in performing liver transplant surgeries
Nearly ten years of surgical experience in performing liver donor transplant
Key role in establishing three centres of liver transplant in Mumbai and Maharashtra.
Fellowships of the world's most renowned transplant centres.
About Dr. Gaurav Gupta - Liver Transplant Surgeon

Fellowship in American Society of Transplant Surgeons (ASTS), Indian Society of Transplant Surgeons (ISOT), Association of Surgeons of India (ASI)

Dr. Gaurav Gupta is one of the leading liver transplant surgeons in Mumbai. He is presently associated with Fortis Hospitals as a Head of the Liver Transplant and HPB Surgery Department. He has been instrumental in establishing three liver transplant units in Maharashtra.

Dr. Gaurav Gupta is an ASTS certified abdominal organ transplant surgeon with more than ten years of experience in Liver Transplant surgeries. Being the Chief Surgeon of Liver Transplant in Mumbai, he has performed more than 500 liver transplants in the past five years. Dr. Gupta also has performed the first-ever combined Liver Kidney Living Donor Transplant in Mumbai, Western India.
He is an alumnus of Maulana Azad Medical College, New Delhi, where he studied for his MBBS and MS degrees. He has received his fellowship in Liver Transplant Surgery from the American Society of Transplant Surgeons, University of Pittsburgh Medical Centre (UPMC), Pittsburgh, and University of Pennsylvania, Philadelphia.
During his stint in the USA, he has received training and worked at Thomas E. Starzl Transplant Institute, Penn Transplant Institute, Dumont-UCLA Transplant Centre, which are recognized for their expertise in transplant surgeries.
He was previously associated with Fortis Escorts, the Wockhardt group of hospitals, and Apollo Hospital.
Well, nearly 500 liver transplant surgeries are performed by Dr. Gaurav Gupta with excellent results over the last decade. Hence, it is advisable to consult an expert and experienced liver transplant surgeon for complicated procedures of liver diseases and Liver cancer. Dr. Gaurav Gupta would be one of the best choices to get your liver transplant in the Mumbai region.