Liver Transplant Surgeon In Mumbai
Are you or your family members suffering from acute or chronic liver diseases? Has the doctor recommended a liver transplant as the most suitable way out?
If yes, then approach Dr Gaurav Gupta, Consultant, and Head of Liver Transplant and HPB Surgery Department at Fortis, Mulund, Mumbai. He is well known Liver Transplant Surgeon in Mumbai. His other areas of surgical expertise include Living donor Liver Transplant, Laparoscopic Donor Nephrectomy, Pediatric Liver Transplant, and Pancreas Transplant.
Transplant surgeons have successfully performed liver transplants on children as well as adults. Doctors recommend liver transplants when the liver cannot function properly and the body cannot regenerate the liver. Incidentally, the liver is the only organ in the human body that can regenerate.
The patient will require a liver transplant if there is total liver failure due to a liver tumor or long-standing liver diseases such as hepatitis, nonalcoholic fatty liver disease, Cirrhosis, primary sclerosing cholangitis, or the presence of tumors such as hepatoblastoma in children and hepatocellular carcinoma in adults.
Fortis Hospital, Mulund, Mumbai is one of the best hospitals that offer state-of-the-art services for Liver transplant in India. It is synonymous in its liver transplant services that are on par with the international standards with a 96% survival in their liver transplant patients. The Department of Liver Transplant and Hepato Pancreato Biliary Surgery, Fortis Hospitals Mumbai is well equipped with state-of-the-art diagnostic facilities and machinery such as 3 TMRI, 128 slice CT, ARFI, Fibroscan for diagnosing all types of liver issues and Liver Cancer.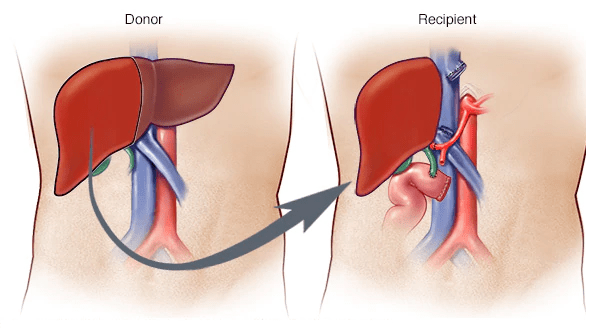 It is normal for patients to wait for a considerable time till a matching liver donor is available. This is the main reason for spreading the awareness of Organ Donation. We can reduce the waiting for patients who are in urgent need of a transplant.
During the waiting period, the patients have to stay motivated and active. A positive frame of mind ensures quick and better recovery.
Some helpful tips for patients waiting for liver transplant are:
Continue taking prescribed medications.
Stay involved in healthy activities and spend time with family and friends.
Stay in touch with your medical team and caregivers.
Follow diet suggestions and restrictions fully.
Inform the medical team of certain health complications as and when they arise.
The patient will have to stay in the hospital for at least two weeks for recuperating and observation. If no complications arise, then the patient will be discharged.
Initially, the patient will have to undergo frequent medical checkups and blood tests. It may take nearly six months for the patient to regain normal health. During this period, doctors prescribe immunosuppressants to prevent complications from arising. Also, the patient will have to take medicines for their entire life.
The success rate of liver transplant surgery is nearly 90% and above. People can survive for a considerable long time post-surgery. They can lead normal and active lives too provided they follow the doctor's guidelines, continue the regular medication and go for regular checkups. These patients go back to their work and remain productive members of society.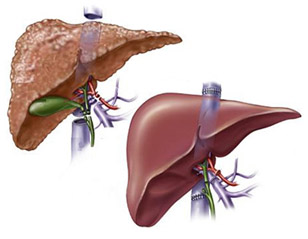 It is possible to encounter complications during a liver transplant procedure. Most Liver transplant surgeries are successful, complication rates can be anywhere 5-10%. The most common problems are infection.
The surgical complication rate is 3-5%. In approximately 1% of new liver transplants, there are chances of non-functioning or poor functioning of the new liver and hence the patient may require a second transplant. The other dreaded complications are
Hepatic artery thrombosis
Bleeding
Extremely competent and proficient in performing liver transplant surgeries
Nearly ten years of surgical experience in performing liver donor transplant
Key role in establishing three centres of liver transplant in Mumbai and Maharashtra.
Fellowships of the world's most renowned transplant centres.
Fellowship in American Society of Transplant Surgeons (ASTS), Indian Society of Transplant Surgeons (ISOT), Association of Surgeons of India (ASI)
Dr. Gaurav Gupta is one of the leading liver transplant surgeons in Mumbai. He is presently associated with Fortis Hospitals as a Head of the Liver Transplant and HPB Surgery Department. He has been instrumental in establishing three liver transplant units in Maharashtra.
Dr. Gaurav Gupta is an ASTS certified abdominal organ transplant surgeon with more than ten years of experience in Liver Transplant surgeries. Being the Chief Surgeon of Liver Transplant in Mumbai, he has performed more than 500 liver transplants in the past five years. Dr. Gupta also has performed the first-ever combined Liver Kidney Living Donor Transplant in Mumbai, Western India.
He is an alumnus of Maulana Azad Medical College, New Delhi, where he studied for his MBBS and MS degrees. He has received his fellowship in Liver Transplant Surgery from the American Society of Transplant Surgeons, University of Pittsburgh Medical Centre (UPMC), Pittsburgh, and University of Pennsylvania, Philadelphia.
During his stint in the USA, he has received training and worked at Thomas E. Starzl Transplant Institute, Penn Transplant Institute, Dumont-UCLA Transplant Centre, which are recognized for their expertise in transplant surgeries.
He was previously associated with Fortis Escorts, the Wockhardt group of hospitals, and Apollo Hospital.
Well, nearly 500 liver transplant surgeries are performed by Dr. Gaurav Gupta with excellent results over the last decade. Hence, it is advisable to consult an expert and experienced liver transplant surgeon for complicated procedures of liver diseases and Liver cancer. Dr. Gaurav Gupta would be one of the best choices to get your liver transplant in the Mumbai region.
MBBS, MS
ASTS Multi Organ Transplant Fellowship Upenn, UPMC (USA)
Head of Department – Liver Transplant & HPB Surgery at Fortis Hospital Mulund
Dr. Gaurav Gupta is well known for the following:-
Living Donor Liver Transplants
Combined Liver Kidney Transplant
Pediatric Liver Transplants
Laparoscopic Donor Nephrectomy
Pancreas Transplant
The pancreas' primary function is to produce digestive juices and hormones such as insulin and glucagon, which help maintain normal blood sugar levels and use and store energy derived from food. For insulin-dependent diabetes, the doctor will recommend a Pancreas Transplant. Dr Gaurav Gupta is an ASTS certified abdominal organ transplant surgeon who also offers the treatment for Pancreas Transplant in Mumbai.
Hepato-Pancreato-Biliary (HPB) Surgery
Hepato-biliary disease comprises a heterogeneous group of conditions that affect the liver, bile ducts, gallbladder, and pancreas. The HPB Surgery can be done for different conditions under the Hepato -Pancreato-Biliary scope. There are different types and stages that can be treated through this Surgery with a success rate of over 90 %. Dr. Gaurav Gupta, a top-rated HPB Surgeon offers reliable Hepato-Pancreato-Biliary (HPB) Surgery in Mumbai.
Liver Cancer Treatment
Liver cancer is also called hepatic cancer or primary liver cancer when cancer originates in the liver. If cancer starts in any part of the body and spreads to the liver, then the condition is called liver metastasis or secondary liver cancer. If cancer originates in the hepatocytes, then it is called hepatocellular carcinoma. If cancer forms in immature liver cells, then it is called hepatoblastoma. If cancer occurs in bile ducts, then the condition is cholangiocarcinoma. Hepatoblastoma is mostly seen in children. Hepatocellular carcinoma is common among all liver cancers. However, secondary liver cancer is common when compared to primary liver cancer.
Pediatric Liver Transplant
Pediatric Liver transplantation is a highly recommended effective surgical treatment for your child suffering from final-stage liver complications. Children with critical liver issues are recommended to have a pediatric liver transplant else they may lose their lives. Biliary atresia, liver cancer, liver tumors, and genetic liver diseases need immediate treatment and a healthy liver transplant to survive and live normally.
Liver Transplant
A liver transplant is a surgical procedure that removes a liver that no longer functions properly (liver failure) and replaces it with a healthy liver from a deceased donor or a portion of a healthy liver from a living donor. A liver transplant is usually reserved as a treatment option for people who have significant complications due to end-stage chronic liver disease. A liver transplant is a lifesaving procedure for which you need a hospital with advanced infrastructure to carry out this complicated and crucial surgery.
Liver and Biliary Disease Treatment
Biliary disease is a medical condition associated with bile ducts, gall bladder, and other structures associated with the bile, its production, and transportation. Biliary Atresia, Primary Biliary Cirrhosis, and Primary Sclerosing Cholangitis are medical conditions related to bile ducts and can hamper the digestion process severely. A proper Diagnosis and Treatment is very important as ignorance can cause huge trouble to the patient.
Portal Hypertension Surgery
Portal hypertension is when the pressure inside the portal vein rises. It is because obstruction in the blood flow via the liver causes the pressure to rise. Increased pressure in the portal vein causes prominent veins (varices) to form across the esophagus and stomach to get past the obstruction. The varices become weak and prone to bleeding.
When does a doctor suggest a Liver Transplant?
A Doctor suggests a liver transplant if the patient is diagnosed with chronic liver diseases such as Hepatitis C, Hepatitis B, cirrhosis, liver tumor, or liver is not able to regenerate even after comprehensive treatment.
What are the symptoms of liver disease?
People suffering from severe liver diseases will be weak, suffering from jaundice, water retention, pass black stools or vomit blood or even suffer frequent abdominal infections.
Who is an ideal liver donor?
An ideal liver donor can be a healthy family member of 18 – 55 years, with a BMI of less than 30.
Are liver donation and liver transplantation safe?
Yes, both liver donation and liver transplantation procedures are very safe. The liver is the only organ in the body that can regenerate. Hence, the liver donor and recipient can expect their liver to grow back in some months. The liver donor will not have to take medication after a few weeks of donating liver, while the liver recipient will have to take medicines for protection against infections.
Are all liver transplants successful?
Well, most of them are. Liver transplant has a 1-year survival of around 90%.Dr. Gaurav Gupta has performed nearly 500 liver transplant surgeries with excellent results over the last decade. Hence, it is advisable to consult an expert and experienced liver transplant surgeon for the procedure.
Dr Gupta and Swapnil sharma is a very caring and expertise in their field. They are also very supportive and helpful.The whole staff is so good and supportive they helped me a lot. They are God to me I want to thank both the doctors and their complete staff for giving me another life.
Mahalinga Kergal
2021-05-22
Sir It is my personal experience with Dr. Gupta who has given a new life to my brother Muthayya P Devadiga Ex-employee of Air India in the critical time (Covid 19 pendamic) in the March/April 2020 and recently ( March 2021) has carried out altogether three operations (surgery) successfully and prevented spreading further from cancer. He is a simple human being helped us during lockdown period on our behalf he has discussed with Air India - penal doctor - Dr. Aggraval and got the approval and carried out surgery. His timely help saved the patient life ( Muthayya P Devadiga). He is very kind person and good doctor. I pray almighty God bless him.
I was in my final semester of masters. I was having regular episodes of stomach pain. We consulted Dr. Gaurav Gupta after all the tests and when the reports came seeing all the the complications he guided us the best solution which will benefit me for the rest of life. I underwent surgery 3 months ago and today I m fit and fine doing all my work. He is not only the best liver surgeon but a great human too. He explained several times the consequences of my problem to mom and dad. And today I feel without your guidance sir it wouldn't be possible for us to take this decision. Dr. Gaurav Gupta and his whole team are just the finest doctors we have came across From the decision making of my operation to make me stand after the 1st day of surgery I can't describe it in words. I and my family Would be thankful for the rest of my life.
Excellent Surgeon...No words can describe their skills...'New life surgeon' word more suitable than liver surgeon.
We love the engaged enthusiastic, intelligent, up-to-date management of my situation by Dr. Gaurav Gupta and his team of excellent professionals at Fortis, Mumbai. He is a fountain of information. Just because of him and his staff helping, this onerous process has been bearable to us. Do give him a visit if you are looking for one of the best Liver transplant in Mumbai. Dr. Gaurav Gupta Sir's nature is very simple and very caring to the patient. Dr. Gaurav Gupta Sir is a very noble surgeon, his personality is very commendable, we appreciate his service. He is one of the best Liver Transplant Surgeon ever.
Dr Gaurav Gupta & Dr Swapnil Sharma are the best liver transplant surgeon, yesterday it was one year of completing my dads liver transplant surgery. Dr Gaurav Gupta is extremely professional and had deep knowledge of the case. His team is also very professional as they guided us regarding the process and surgery. After undergoing surgery, the outcome is very good and we are very happy with the results.
Dr. Gaurav Gupta sir, Dr. Swapnil Sharma sir and their whole team of doctors and health care workers in Fortis hospital, Mulund provided us the best treatment and a reliable service. Such an expertise, be it clinical or hospitality is always recommendable and preferable. A huge gratitude towards the whole team.
They only post few successful operations. They don't post their failures.Be aware. Anyone living donour planning for transplant please contact me before.